Το internet "γλεντάει" τον Bezos για τις ομοιότητες με τον Dr. Evil μετά τη διαστημική του πτήση&nbsp
Πάρτυ στο Twitter
Ο Jeff Bezos, ο πλουσιότερος άνθρωπος του κόσμου συγκρινόταν στο internet μέχρι σήμερα με τον Lex Luthor, το διαβόητο "υπερκακό" του σύμπαντος της DC Comics. Οι ομοιότητες εμφανείς. Και οι δύο δισεκατομμυριούχοι, με εταιρίες κολοσσούς και...χωρίς μαλλιά.
Lex Luthor

— versatran01 (@versatran01) October 5, 2020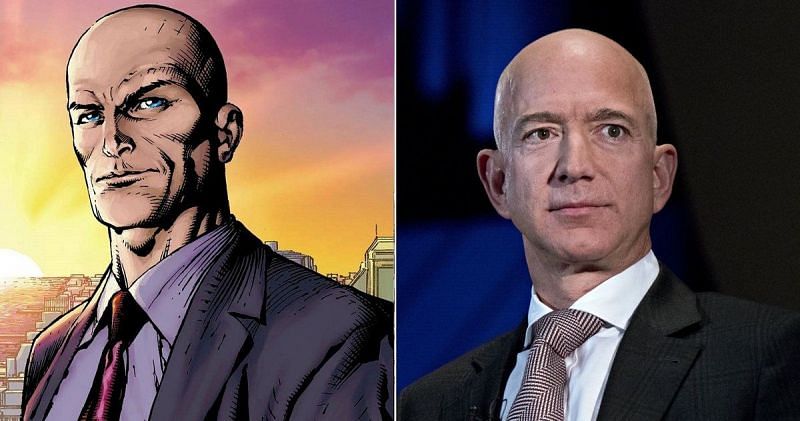 Αυτό άλλαξε όμως από τη μία μέρα στην άλλη, με αφορμή την πρώτη πτήση του Bezos στο διάστημα. Το Twitter αμέσως γέμισε με memes τα οποία παρομοιάζουν πλέον τον Bezos με τον Dr. Evil από τις ταινίες Austin Powers και συγκεκριμένα τη δεύτερη, στην οποία ο Dr. Evil διαφεύγει από τη Γη με ένα διαστημικό σκάφος που έχει ανατομικές ομοιότητες με όργανο του ανθρώπινου σώματος, κάτι που έχει χαρακτηρίσει και το σκάφος της Blue Origin.
It is what it is. We all have to come to grips & accept this. @JeffBezos is #DrEvil 😆 #Facts pic.twitter.com/RqvyeGuIo3

— The Tennessee Werewolves (@TNwerewolves) July 20, 2021
-"What is it, son?"
-"I don't know, sir, but it looks like a giant-"#AustinPowers #BlueOrigin #Bezos #DrEvil pic.twitter.com/fpEuQkMvSx

— Sgt. Giddyap Carruthers (@WildjCard) July 20, 2021
One BILLION dollars…#DrEvil #JeffBezos #BlueOrigin #dongship 🚀🌎 pic.twitter.com/yypF9g7liA

— Tommy GB ✌🏻 (@TommyGB64) July 20, 2021
But I mean come on….. it's dr evil to a T. Including the suggestive design pic.twitter.com/SyNCqRcw8u

— Dominick Sannelli (@dsannelli7) July 20, 2021
I posted this meme on the wrong day #JeffBezos #BlueOrigin pic.twitter.com/8E88tSLfXP

— Open Mind Integration (@OpenMindHC) July 20, 2021
Jeff Bezos has legit turned into Dr. Evil. pic.twitter.com/9EKPs3Hzys

— Wonx316 🇹🇿 (@wonx316) July 20, 2021
#JeffBezos #DrEvil #samebutdifferent pic.twitter.com/cc7pdfdhxG

— Dennis Depew (@DDepew1975) July 20, 2021
We were all too preocuppied with calling Jeff Bezos "Lex Luthor" that we didn't see the Dr. Evil picture forming before our eyes, pic.twitter.com/oI0xI4DHOw

— Karn EX (@Karn_EX) July 20, 2021
Την ομοιότητα ανέφερε ακόμα και το Netflix του Καναδά.
all these billionaires going to space yet dr. evil did it first pic.twitter.com/NQh7EIkfCV

— Netflix Canada (@Netflix_CA) July 20, 2021
Οι ομοιότητες των δύο δεν ήταν το μόνο που έγινε viral στο Twitter. Πολλοί δεν έχασαν την ευκαιρία και να σχολιάσουν τη δήλωση του Bezos "πως κάθε υπάλληλος και πελάτης της Amazon πλήρωσαν για αυτήν την πτήση".
"I want to thank every Amazon employee, and every Amazon customer, because you guys paid for all this." - Jeff Bezos pic.twitter.com/nTYcGiJ803

— Dr. Elle (@hartman_gabby) July 21, 2021
Amazon employees now that Jeff Bezos is in space 😂 #doge pic.twitter.com/457RXmQOKt

— stonkbaby ✪ (@stonkbaby) July 21, 2021
Τέλος, μερικοί σχολίασαν ακόμα και το διαζύγιο του Bezos με την McKenzie Scott, σε σχέση πάντα με την πτήση του.
hard to imagine a better divorce outcome than getting 50 billion dollars and then your ex literally leaves the planet

— muscle skoals (@MuscleSkoals) July 19, 2021
$200 million
The amount of money Jeff #Bezos just donated publicly after stepping off his rocket ship.

$2.7 BILLION
The amount McKenzie Scott (his ex-wife) has donated this year without making a public announcement. pic.twitter.com/Ot3HMywWqQ

— Tokyo Sand (@DHStokyo) July 21, 2021